Have you ever gotten a bad case of the "Are we theeeere yets?!"
Maybe the last time it happened to you, you were just a little kid. Pounding your fists on the back of your mom's car seat on a long road trip to Grandma's house. Pent up and frustrated. ("Are we theeeere yet?!")
Or maybe you're experiencing it right now. You've got an ambitious business vision — selling 1,000 pieces of custom jewelry, booking 10 VIP clients for your luxury retreat, or getting 500 people to enroll in your online program — except you've got a ton of community-building and marketing to do before that's realistically possible. ("Why isn't anyone signing uppppp yet?!")
I've got an intense case of the "Are we theeeere yets?!" right now, as I'm writing these words. Ohhh yes I do.
For the past several years, my husband and I have been living in on a gorgeous vineyard in northern Cali. Totally dreamy.
Recently, though, I made my "giving-it-a-real-shot" move to Los Angeles, to pursue some exciting opportunities in screenwriting while I run my company & teach lovely entrepreneurs (like you!) how to build audiences who are totally obsessed with their work.
Meanwhile, my husband has some amazing opportunities over the next several months that will have him road-tripping around to various corners of America. Not in Los Angeles.
Sigh.
And, if I'm being totally honest? I am tired of schlepping around and not feeling settled. I just want to find a home and be… home. With my family, of course.
I am fully aware that this is a very "first world problem" to have, but even so, my inner toddler wants to throw a tantrum. I just want to be "there"… NOOOOOW.
But the slightly-wiser part of me knows — whether it's traveling, the development of a your business, or the quest for the perfect abode — whining doesn't make the work go by any faster and worrying doesn't make you any more successful.
The only thing that helps… is changing your attitude.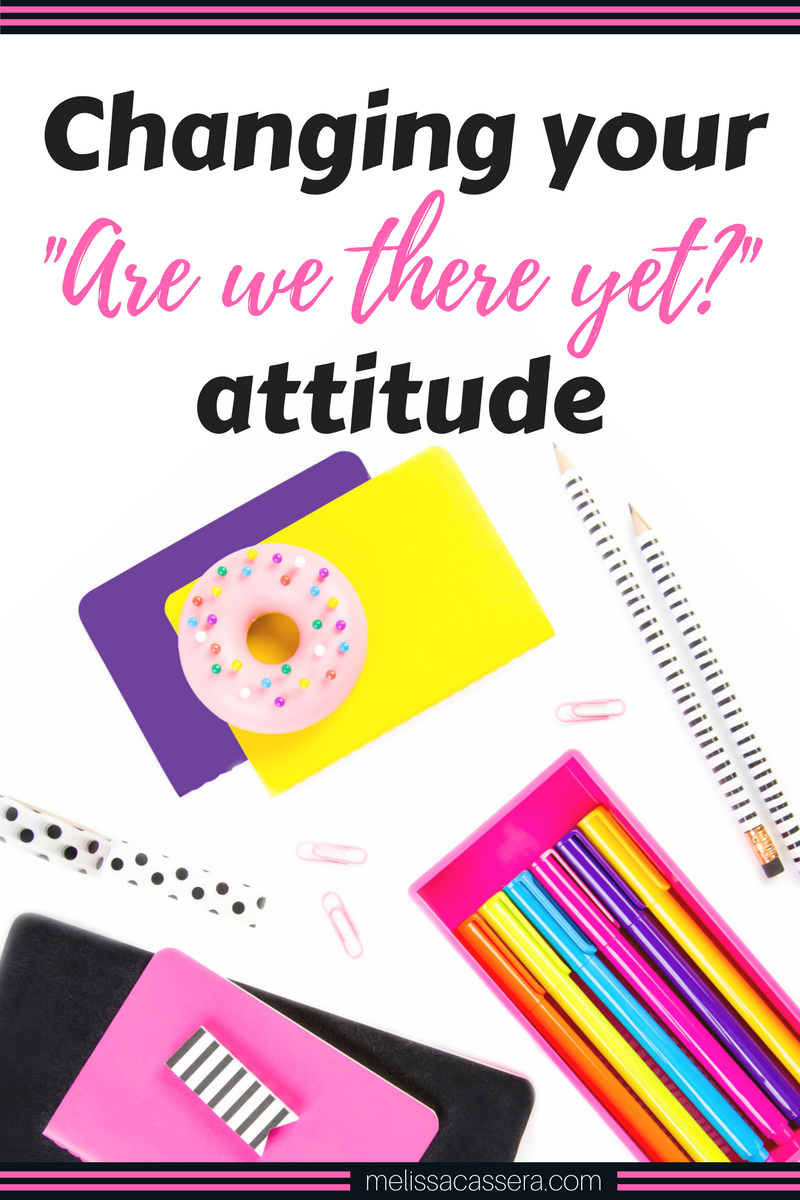 I am working on changing my "Are we theeeere yet?!" inner dialogue into: "Wow. I'm here now."
And the truth is, "here" is pretty freaking amazing.
I've got a partner who loves me and wants to support my dreams, even though it means putting us through some upheaval.
I've got my sweet little Lilykins, the greatest Shih Tzu in the entire universe.
I've got my main business — this one! — and all-star clients and customers that I am obsessed with. 🙂
I've got three completed original TV Pilots, plus a fourth in the works.
I have a lot of dreams that are months, years, even decades away from completion — like getting Ben Affleck to direct the pilot episode of my first HBO series (yeah, I said "first").
But while I'm doing the work to move from "here" to "there," I want to enjoy the journey — not complain about it.
Wherever you are, right now? I bet there's at least one reason why it totally rocks — even though you might not be where you want to be yet.
Got an empty client docket? Phone not ringing yet? Sweet! You have the gift of free time. Use this precious time to work out, hike, sunbathe, catch up on all of your favorite Kindle reads, or plan extra-special dates and special experiences for your sweetheart, BFFs, or kids. Because sooner or later, your docket will be bursting with clients and you'll be thinking, "Damn. I kinda wish I had taken advantage of all that free time back when I had it!"
Got twelve people on your mailing list? Wish it was more like twelve thousand? You have the gift of intimacy. You can build a personal relationship with every single person in your business community. You can go deep, encourage them to give secret confessions to you, understand how their minds work. These people are priceless. They are your test-drive customers. You can serve them at a very high level and collect info on the results! One day, when you're running a bustling business, selling products left and right, you might find yourself thinking, "Wow. I kind of miss knowing everyone in my biz community on a first-name basis."
There is always a reason to love where you are right now, love the journey, love the struggle, love the baby steps. All of it. Always.
Find at least one good reason to appreciate where you're at with your life and business, right now, and say it out loud. Freak out the guy at Starbucks next to you.