If you've followed me for any length of time, you know I have a massive, unrelenting obsession with TV.
Game of Thrones. Empire. The Fall. UnREAL. Gossip Girl reruns.
I can't.get.enough.
I've even morphed my love of TV into a budding screenwriting career, creating three original TV pilots and going on lots and lots of meetings in LA.
People constantly ask me:
"How can you get anything done if you're watching that much TV?"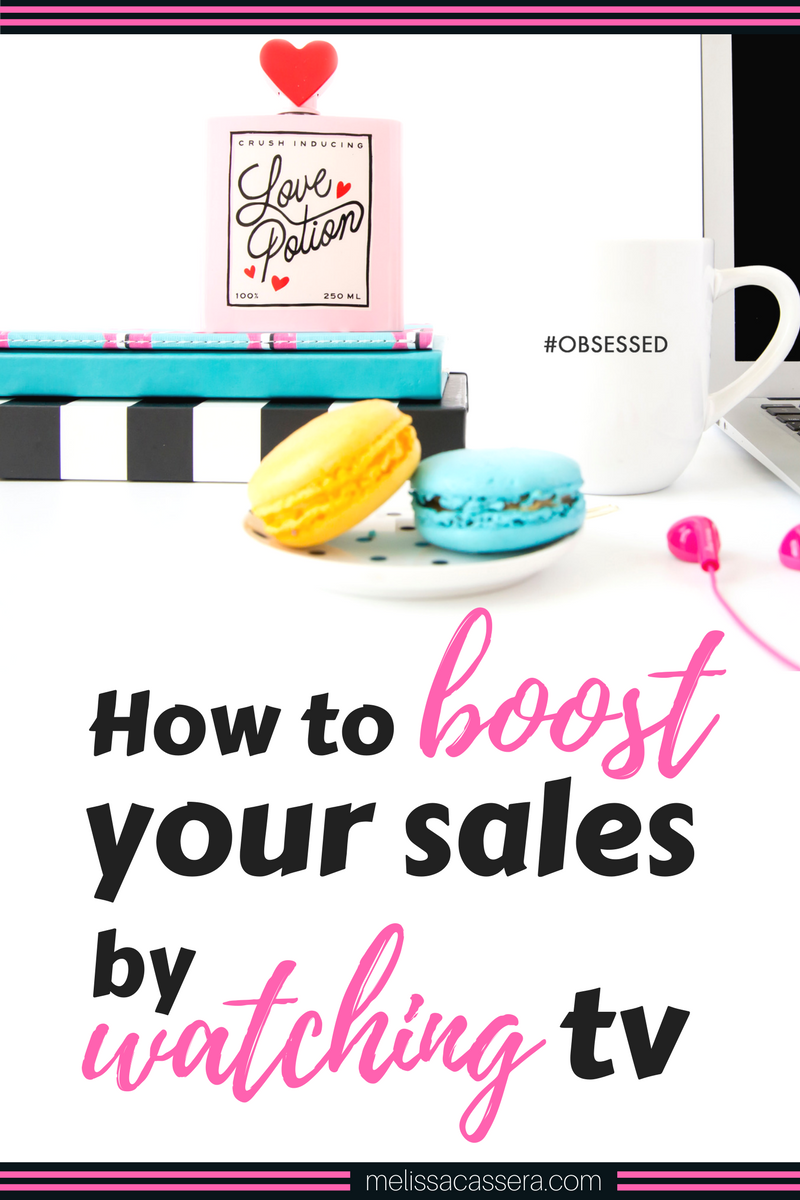 The simple answer?
Watching TV makes me better at running my business.
How so?
Because successful TV show writers & producers are masters of creating "obsession."
And figuring out how to entice fans & customers and build obsession… is my obsession!
I worked in advertising, marketing and PR for household-name brands before starting my own business. During that time, I learned a lot about how to woo, entice, excite, and send your customers into a purchasing frenzy. It was a solid, real-world baseline education.
But it wasn't until I started fervently watching TV shows, studying the TV industry, poring over how successful shows take off — and why certain shows don't — that my "education" really began. That's when I started figuring out how coaches, consultants, freelancers, and small biz owners can use the same strategies that TV execs use to create obsessed fans and customers, too.
Here's one of the biggest obsession-building techniques that I've noticed:
Smart TV writers and execs pay very close attention to what their fans are talking about, excited about, wondering about, and thinking about… and then they deliver exactly what their fans crave.
This personalized, VIP attention sends fans into a whirlwind of orgasmic delight.
The result? Fans talk about their fav show EVEN MORE (hello, word of mouth marketing!) and watch it EVEN MORE and buy the associated spin off products ALL THE TIME. They're addicted! They're obsessed!
It works exactly the same way with your business, too.
If you serve your "core audience" like they are royalty (whether it's 120,000 readers or 120 subscribers)… give them exactly what they crave… rock their universe… make them feel special, seen, valued, and appreciated… then you will take their obsession to new heights and the word of mouth buzz about YOU will grow.
Here's one of my fav examples of how this works:
Ever watch the show Supernatural?
If you're into two hot guys riding around fighting demons it might be your thing. 🙂
This show has an explosive fan following and has lasted 11 seasons, bringing its network — The CW — some of its best ratings in history.
But here's an interesting twist…
When the show first started out, the creators assumed that (a) it would be a short-lived show, maybe 3 seasons at most and (b) its fans would be primarily young men. Teen guys and college-aged dudes. After all, it had all the makings of a "bro show": guns, rock music, cool cars, monsters, the whole nine yards.
That's why the show's creators were surprised to discover that a huge number of Supernatural's biggest fans were not men.
At Supernatural fan conventions, for example, the demographic was often 80% women, 20% men.
You can imagine a room full of TV writers and producers scratching their heads going, "Okaaaay. So, what do we do with this new information?"
The answer, of course, was:
"We're going to give these ladies whatever they want!"
The creators of the show paid close attention to fangirl conversations online — like posts and comments on fan blogs and chatter on social media sites.
They picked up on the fact that many of the show's fans were not only women, but super smart, intelligent women with strong feminist leanings who wanted to see more cool, powerful, heroic female lead characters on screen.
So, the writers responded accordingly. They phased out female characters with "bimbo"-ish tendencies and rolled in new characters that the fans loved even more — along with lots of other choices that fed into their fangirl's desires.
The end result?
A long, illustrious, wildly successful show that outlasted everyone's expectations, plus successful spin offs, conferences, books, comics, products, the whole gamut.
(Side note: Fangasm, a book written by two female Supernatural fangirls who are both college professors, is a brilliant read.)
The big lesson here:
Whether you have 10 fans, 100 fans, or millions and bazillions of fans, focus on your fans.
Talk to them. Listen to them. Interview them. Survey them. Hang out where they hang out. Lurk around the social media platforms where they talk. Get intimately acquainted with their spoken (and unspoken) desires.
Then… pour your heart and soul into creating content (blog posts, newsletters, courses, Q&A columns, guidebooks, tip sheets, podcasts, experiences etc.) and products and services that your core fans will totally LOVE.
Instead of constantly turning outward, trying to attract new audiences, new readers, new subscribers, and so on, focus on serving the core people who are already showing up for you.
Show up for them, too, and that's how you will create raging obsession… word of mouth wildfire… and record-breaking sales.
On that final note, I have a LOT of TV watching to do. #BecauseResearch
xo.
Melissa