Would you like to know all about a secret guilty pleasure that I share with a couple of my friends? Oh, I bet you would. 😉
I have a few girlfriends who run businesses (like me), who blog, send out newsletters, and teach online classes (like me) and who love playing completely ridiculous word-games (like me).
One of our favorite games to play?
We come up with "descriptions" for imaginary fictional characters that we "wish" existed.
For example: we have a huge list of descriptions of men starring in smutty romance novels that should totally be written someday. Do we actually want to write these novels, for real? Not really. We just think it's hilarious to come up with salacious character names and concepts for absolutely no reason – except that it's fun.
For example…
Allow me to introduce you to: Ridge Cockton.
Ridge Cockton
The youngest in a family of seven sons (all cowboys), Ridge is the only unmarried man in the bunch… but his bachelor-status is shaken when a new cowgirl rides into town, placing her red-hot brand on his heart…
Ahahaaaa!! Ridge Cockton Forever.
Get ready to meet another one of our imaginary male protagonists, Devon Oberlin.
Devon Oberlin
It's all business for Mr. Oberlin – a cutthroat investor who doesn't suffer fools, gladly. There's only one place in the world where he lets the mask fall away: inside a local glassblowing studio, where his inner artist comes out to play. But when the studio falls under new management, he's confronted with his greatest fear: a woman who sees right through him, CLEAR AS GLASS.
Obsessed!!!
But why limit ourselves to imaginary male romance novel characters? There are so many other imaginary things we could describe!
Recently, one of my friends sent me a description for an imaginary fitness program that she invented in her mind:
ArsonBlast™: This Pilates-inspired workout will get your ass burning so much, the police will arrest you for arson! You will literally be jailed! Say goodbye to your family, BECAUSE JAIL! But your ass will look great. #WorthIt
Oh but wait, there's more.
Here is my synopsis of an imaginary Lifetime Original movie that I call… Limited Time Only.
Limited Time Only.
A young, ambitious entrepreneur becomes embroiled in the world of Internet marketing, learning the "7 weeks to 7 figures" money-making secrets from the best in the biz: a seductive older woman that he's only ever communicated with… online. But when his mentor asks for an in-person meeting, things take a twisted turn. Could it be "limited time only"… FOR HIS LIFE?????
A line of dialogue for the film: "Buy Now? More like… DIE NOW!!"
OMG. I can't stop.
We literally exchange dozens of emails back and forth, sending insane imaginary descriptions to each other and giggling like total dorks.
But here's the thing…
While these writing-games may seem silly (which they are) that doesn't mean they are "pointless." Not at all.
Doing a "just for fun" writing project – something small that doesn't stress you out, like a couple of sentences, with no big agenda or time pressure – can help you to tap into your playful side and get your creative wheels turning. Plus, smiling and giggling boosts your brain's production of dopamine, a neurotransmitter that heightens your creativity and makes it easier to improvise and think on the fly. All very good things!
After writing a couple of (imaginary) descriptions for characters, fitness programs, movies, books, or products, you might find yourself coming up with fresh ideas on how to write (real) copy for your (real) products, services, and programs, too.
Worth a try, right?
The bottom line is…
If you're trying to write enticing, compelling language for your website, your newsletter, or to describe a product or service, your writing is going to succcccck if you feel totally "tight" and "pressured" and "stressed" while you are doing it.
The secret to juicy, exciting writing that's dripping with personality – and that inspires customers to say "YES!" – is to relax, have fun, and not take it so seriously.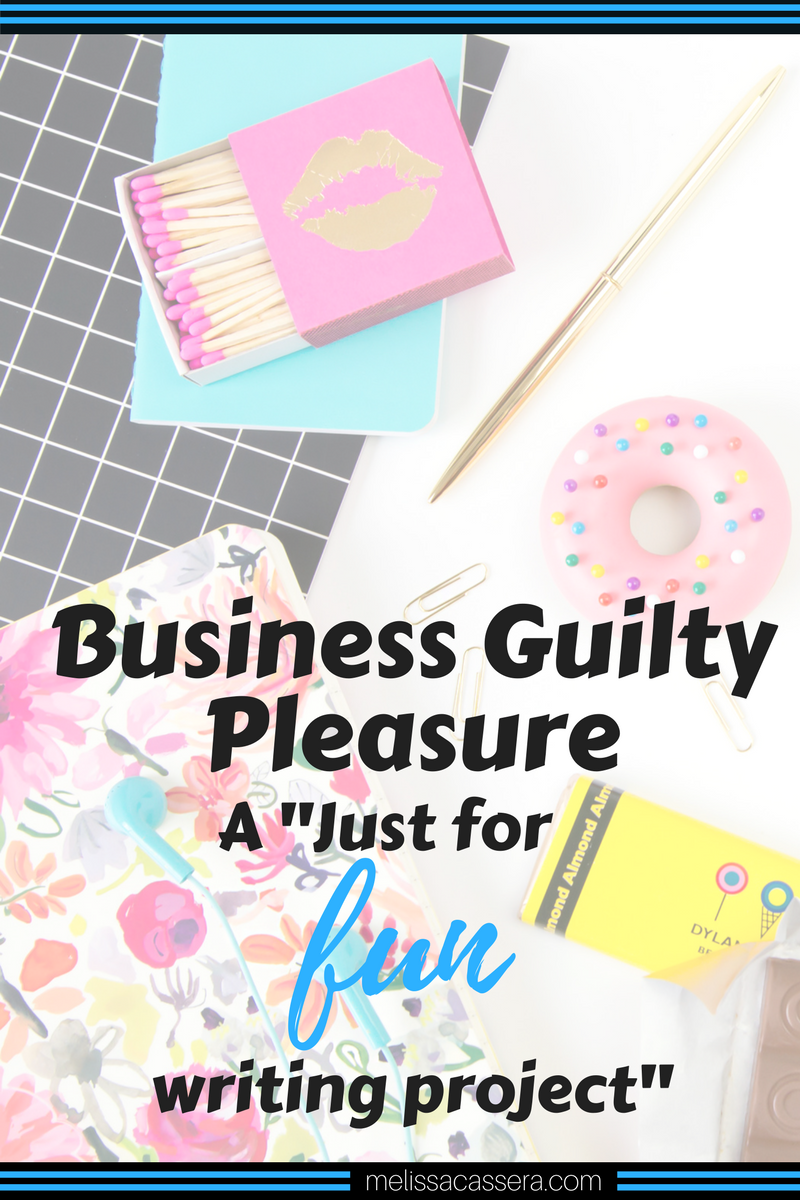 Your challenge for today:
Write a description for an imaginary character, fitness program, movie, book, or product. Something that doesn't exist yet, but should. Or something that's just extremely hilarious-sounding to you.
Then… write a description for something real, like a product or service that you offer. But try to stay in the "no presh, it's just a fun game!" mindset while you write it. See if that mindset-shift changes your tone and wording choices. (I bet it will.)
I gotta get back to my inbox, now, because I have a lot more imaginary male romance novel characters to name and describe. (Like… Billy Glide, Sterling Hicks, and Quade King. Bahahahaha. The list never ends…)