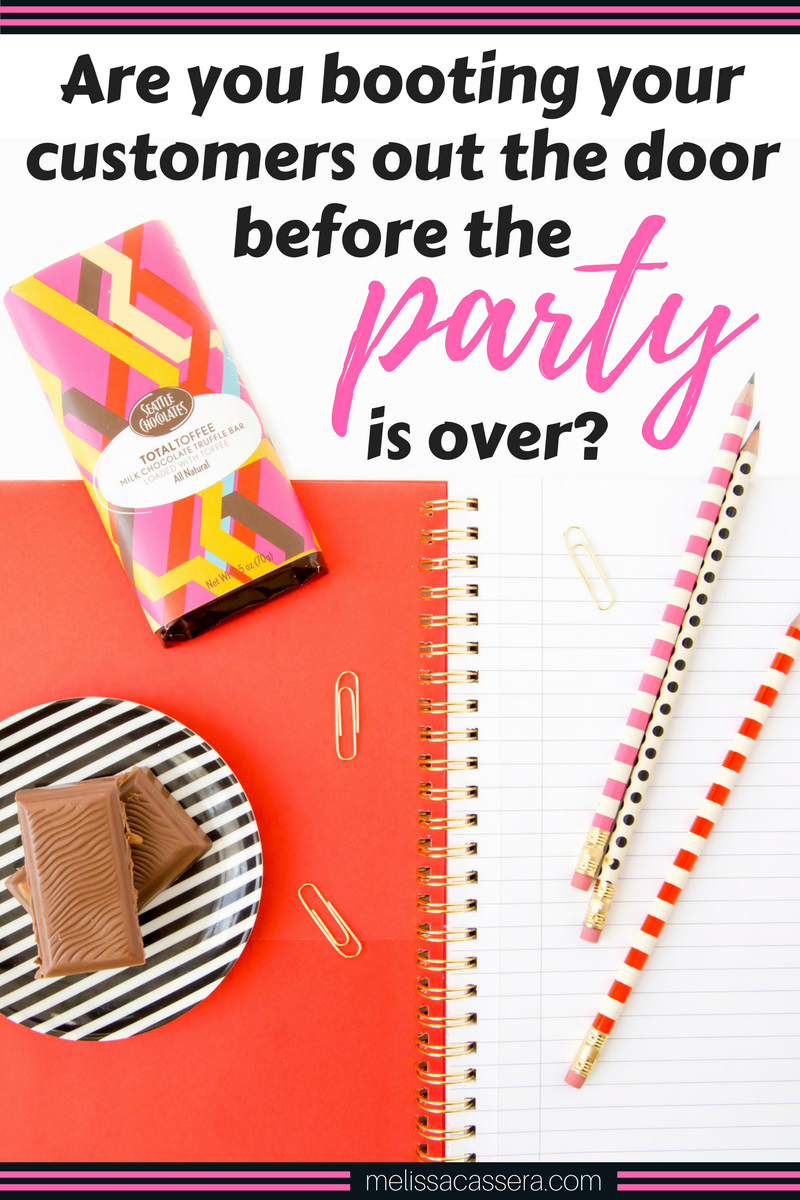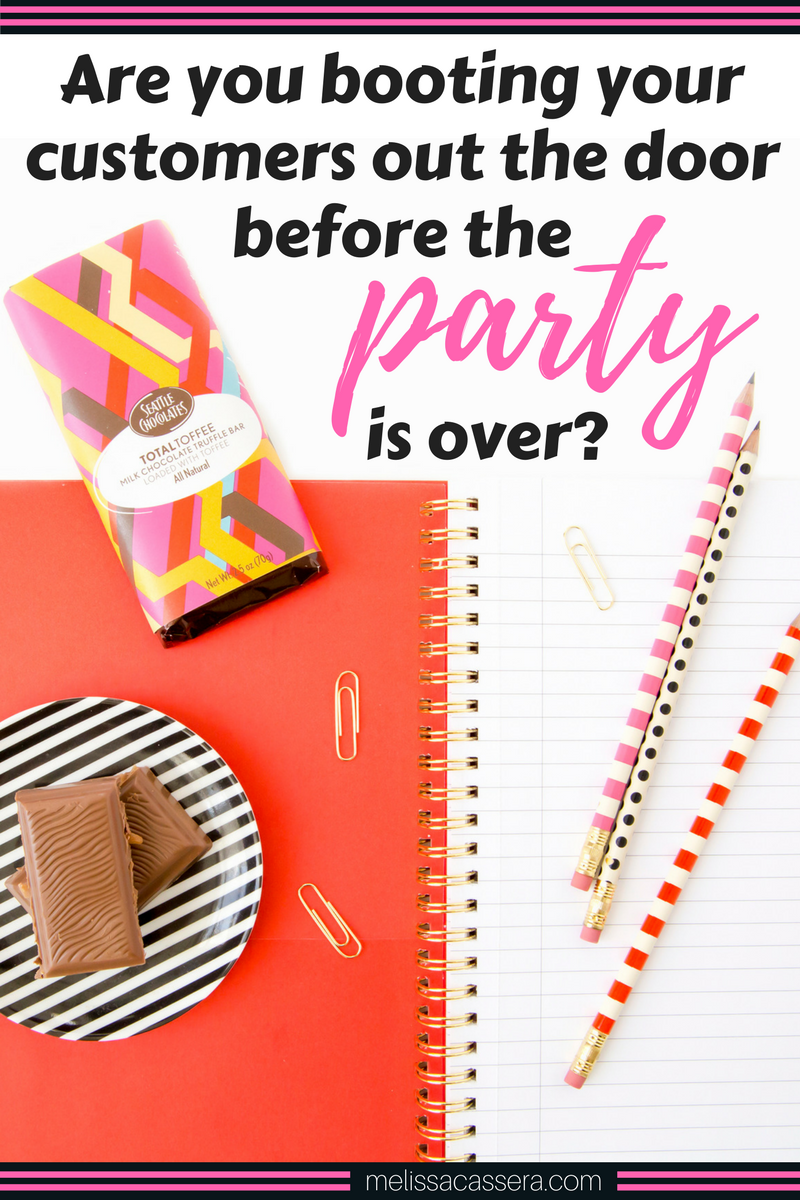 "OMG, Melissa! I have the BEST idea for a new business offering. Seriously. I've done tons of research to figure out what my peeps need most, and I've been beta-testing this new program with a small group of customers. The feedback has been amazing. I can't WAIT to release it to the world!!!"
My client is gushing to me over the phone, telling me every delicious detail about her latest program. I can feel her enthusiasm rippling through the phone line, and I'm loving every word.
When it's my turn to chime in, I only have one question.
"Sounds fantastic. I'm wondering… what comes after this offering?"
My client replies with a big, fat pause, followed by…
"Huh? What do you mean?"
"I mean, what's the next logical offering that you could create, after this one? Your customers are going to be super excited once they complete this particular program, right? They're going to be wondering, 'Now what?' Do you have a 'next step' or 'second level' or 'sequel' to offer them?"
Another extended… pause. Finally, she says:
"Um… no. I've been so focused on this launch, I haven't even had the brain-space to think about what might come next."
"Well, consider me your bonus brain," I say. "Let's figure out what comes next, right now… BEFORE you launch this new program!"
This is the part where I start rubbing my palms together, maniacally.
Because if there's ONE thing I love, it's coming up with a hot + juicy SEQUEL to a Blockbuster Hit.
Here's the thing:
If you're failing to come up with a "next step" for your clients + customers, it's kinda like booting guests out of your house before the dinner party is over.
It's abrupt. It's awkward. Your beloved guests will be shivering outside in the cold, going, "WTF just happened? I thought we were on a roll… I'm still kinda hungry… and where are we s'posed to go, from here?"
Don't be that kind of host!
You're way classier than that. 😉
Just take a little time + care to plan a logical "next step" for your peeps, before you launch your next big thing.
To give you a little inspiration…
:: If you're leading an "Introduction to Gluten-free Cooking" workshop… why stop there? Plan a mini-series of workshops. The intro class, plus "Gluten-free Italian," "Gluten-free Thai" and "Gluten-free Desserts." (Once your students take the intro class, they're likely to be hungry — literally — for more!)
:: If you're a copywriter who is a superstar at cranking out web copy and sales pages, don't leave your clients hanging, there! Circle back to your fav clients to offer an "ongoing support" package. Say, a package where you offer sprucing on blog posts, social media content and other materials, every month!
:: Creating an e-course on basic photography techniques? Keep the shutterbugs happy with a second e-course for people who want to learn how to take their photography to a "pro" level… or a course for people who want to learn how to set up a photography-based business and start turning their art into cash.
If — for whatever reason — you can't, won't or don't want to offer some kind of "sequel" for your customers, that's not the end of the world.
Instead, give 'em some kind of "wrap-up" support so that they don't feel completely abandoned at the end of their experience with you.
For example…
:: You could offer your life coaching clients a resource kit filled with people to know, blogs to bookmark, and inspiring books to pop onto their reading list.
:: You could offer your business coaching clients a "next step" checklist, mapping out precisely what they oughta do next… even if you're not personally guiding them through the process, yourself.
:: You could create a Facebook group for graduates of your mastermind program, or former workshop participants, to hang out + stay connected.
:: You could set up an automatic email that blasts out to everyone who purchases one of your gorgeous faux-leather handbags, called, "10 exotic places to visit before you die… with your new handbag, of course."
Offering a sequel — or some other form of ongoing support + inspiration — is such a powerful thing to do.
It shows your customers that you really care about their happiness + wellbeing, and you're committed to serving them for the long haul.
It allows your customer to step into a thoughtful "progression" of experiences that connect together and build upon one another — rather than hopping around from random course to random course, or random product from random product, spinning their wheels, but not making meaningful progress.
It's also (duh!) a really smart way to build additional revenue streams into your business model.
And yet, soooo many business owners forget to ask this very simple question:
"What comes next?"
Your assignment?
Clear out a nice, spacious hour for yourself, sometime this week.
Get outside, or go somewhere calm + energizing that you totally love.
Look at your current business offerings, as well as the ones you're hoping to launch, soon.
For each offering, put yourself in your customer's shoes and ask yourself:
"If I was buying this… what would I want, next?"