"I show people how to make running a business feel like a binge-worthy OBSESSION."
AND WHAT I REALLY, REALLY WANT TO SAY IS…
"I read stacks of trashy novels, devour Netflix shows, write scintillating content inspired by pop culture hilarity & create online courses that feel like red velvet cupcakes… because the more FUN I pour into my work, the more cash & attention I get back."
I'm Melissa Cassera — and as you've probably guessed, teaching entrepreneurs how to grow their business (while having serious fun) is kinda my sweet spot. 😉
People come to me when they're feeling exhausted by marketing gimmicks that don't feel sane, human, or even ethical. Together, we create new strategies that feel natural and pleasurable. Strategies that lead to buzz, excitement, and successful launches—tons of sales and happy customers, not "crickets."
I have a 15+ year background in publicity, advertising, and marketing. I've worked with huge brands, small brands, and everything in between. I have a unique perspective on what it takes to pique an audience's attention and build excitement and obsession for your products and services.
I have been self-employed – successfully running my own business – for over a decade. I'm not a newbie business mentor who just popped up yesterday. I've been around the block, many times. 😉
When I'm not teaching classes, I also work as a screenwriter. I've penned five movies for Lifetime Network – THE OBSESSION THRILLOGY, GIRL FOLLOWED and HER STOLEN PAST. I also have another movie coming out in 2021, a TV series, and five feature films in development.
That's the scoop on my professional life.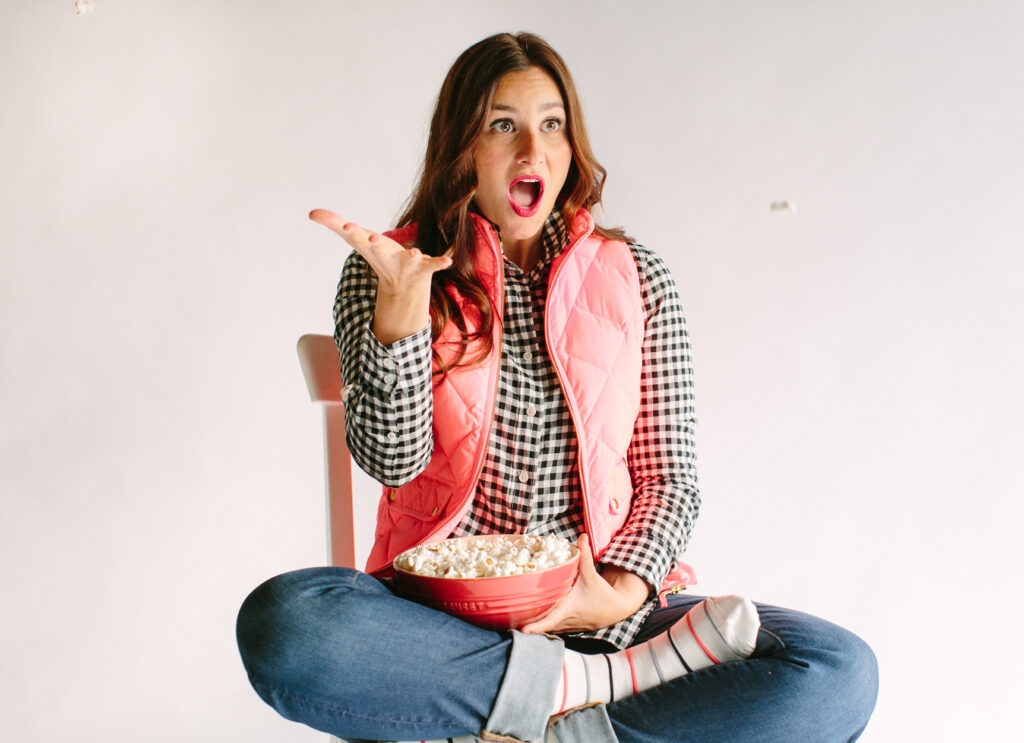 CURIOUS TO KNOW MORE?
… or just looking for something to read to kill time in-between Netflix binges? Here are 10 more facts about me…
1. I am a living "Swedish Meatball": 50% Swedish and 50% Italian.
2. My tips on publicity and sales have been featured in Forbes and Success Magazine as well as top business podcasts like Online Marketing Made Easy and Entrepreneur on Fire.
3. Right after college, I earned extra cash by working as an actress and model. My most legendary gig of all time: cover girl for Advance Nurse Practitioners magazine, starring as: "Uterine Fibroids Patient." Oh, the glamour!
4. I once lived in a 27-foot Airstream trailer with my husband and 3 dogs. We visited 46 states, slept in vineyards, meadows, and valleys, and had the best time ever. Except for when our toilet broke. Which happened… a lot. I will spare you the details.
5. I didn't learn to ride a bike until the age of 30.
6. I used to go through virtuous spurts of trying to live without coffee… but then I realized I've got no time for that noise.
7. I get serious goosebumps when I watch movie trailers. I'll watch good trailers over and over again, even when the movie has been out for a few years.
8. I can plow through most books in one sitting. I'm always looking for good book recommendations—especially fiction.
9. I didn't start writing screenplays—not seriously, anyway—until I was in my 30s. I've even been dubbed "too risqué for television." I've never felt prouder in my life!
10. I am living proof that it's never too late to make your dreams real, whether you want to act, dance, write, rock out in a band, or build an obsessed audience for your products and services and totally rule your industry. Work hard. Play hard. Don't worry about what other people are doing. Just keep your eyes on your own paper and focus on honing your craft and be the best you can be. As my wise screenwriting mentor once told me, "Good work always gets found."
Want to work with me? Excellent!
If you're an entrepreneur, author, or creative who wants more sign-ups, sales and fan mail—you've come to the right place! Check out my online courses—they're unfairly fun & totally addictive.
If you're wanting my eyeballs 1:1 on your copy & content, check out my VIP Days.
If you want to know more about my business story, check out my 5-part miniseries: The Scandalous Truth